The Brief
Kevin Harrington is widely regarded as the father of the infomercial. Kevin has introduced the world to the likes of the Flowbee and discovered undoubtedly one of the greatest pitchmen of all time, the great Billy Mays. When Mark Burnett recruited him to star in ABC's Shark Tank, Kevin approached Polycreative to create a world class online profile that would enhance his star profile.
Development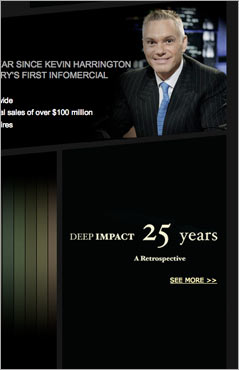 Our management team knew this was no ordinary project. Kevin Harrington is a superstar in the direct to consumer marketing world. Kevin has put together some of the greatest infomercial products of all time that have led to over $4 billion in sales worldwide. When our designers started plotting out a style map the major focus was creating a style that broke common series of rectangles that have dominated web design for decades. But wait there's more!!
The next challenge was how do we include everything from a trailblazing career that has spanned over 25 years into an easily accessible user interface. Kevin Harrington's style is anything but subtle. So Polycreative UX engineers opted for using ajax to build an interface that put multiple levels of content behind easy to access touch points. Instead of building a labyrinth of pages for every product or press piece we built a number of galleries and scroll tables to give what in fact is an extemely vast amount of content into what feels like a lightweight design.
The Results
The reaction to the site was overwhelming. In fact Kevin was so impressed that he tapped Polycreative to become the Digital Agency of Record for the launch of the Inventors Business Center, and we are honored to say the least.