The Brief
Polycreative was approached by Executive Suites of America to create a corporate site that could mirror their high tech approach to flexible office solutions.
Development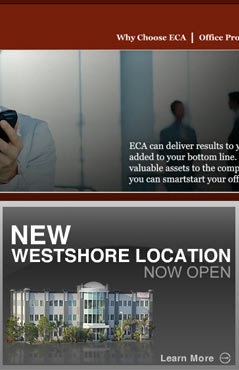 Marketing director Jennifer Kelley assembled her team in a series development meetings with Polycreative. ECA was about to begin construction on their most advanced office building to date, and what they wanted more than anything else was a site that reflected their technical and modern approach to flexible office suites.
We chose Flash as the perfect technology to continue their corporate dialogue online. The interactivity created an opportunity for would be renters to appreciate the advanced business solutions provided by Executive Centers of America before ever visiting the site in person. The use of Flash also gave our designers the ability to pack a content rich site into a very small visual footprint.
The Results
When the client originally saw the finished site we could tell by the huge smile on his face that we hit the mark. He told us that we were the first interactive development team that actually understood the essence of ECA and how he wanted to present it to the world. This site was designed over three years ago and is still going strong. Very few changes and updates have been made since the original launch and the interactivity continues to impress visitors even today.