The Brief
Polycreative has been retained by a number of campaign commities over the years. This is actually the second Judicial election campaign we have had the privilage to work on. Circuit Court Judge Tom Barber came to us looking for a way to energize his constituants and dominate the Web with his message of "Doing What's Right".
Development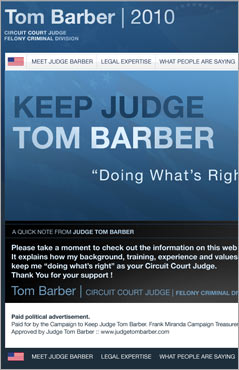 When Judge Barber's campaign approached us it was clear from the start they wanted a design that would not be matched by any other opponent. We knew that he had a very energetic constituancy and we wanted to honor that and re-inforce that energy every time a voter visited the campaign website. Even with a very strict budget we were able to design a site that felt very refined and polished by creating a sea of blue with our use of subtle gradients. Our design team added faint hints of patriotic images which added a sense of pride to all of Judge Barbers supporters.
The second part of our experience was to make sure that he was able to truly connect with his supporters. Polycreative devised a plan to take advantage of direct response methodologies by easily allowing supporters to sign up to a monthly newsletter, stay up to date with his appearances and speaking dates, and to instantly donate to support the campaign. The campaign was also very keen on showing Judge Barber actively participating in the community. So we created a photo gallery that campaing volunteers could add photos and videos to an image gallery without the help of an experienced programmer.
The Results
The end result was a beautiful website that demonstrated his devotion to his family and his constituency. Polycreative has recieved much praise for the elegent blending of functionality and top-level design from both Judge Tom Barber and other attornies in the area. Polycreative has once again raised the bar for interactive and design excellence in political campaigns.